Shopping Cart
Your Cart is Empty
There was an error with PayPal
Click here to try again
Thank you for your business!
You should be receiving an order confirmation from Paypal shortly.
Exit Shopping Cart
From Our Family to Your Table
Keeping Up With the Pockets
Keeping Up With the Pockets
Welcome to our website & welcome to our adventure.  We haven't talked in a while because life is life & it gets busy.  It gets messy.  It gets, well, lifey.  So here we are.  Still sewing, still working, still managing, but not as on top of it all as I prefer.  But hey, gotta give grace, right?  To ourselves as well as others.
First, let's do an update on some of our crazy.  Dad had his transplant & is back home.  Mom had her knee surgery & is finally moving fairly comfortably & is back to working 3rd shift.  These 2 things make things busy ;).  I am working with children at home full-time as well as doing massage part-time again (thank goodness!  Hands. Must. Do. The. 'Ssaging!!).  I share these things so hopefully you will understand that we are human & we are doing many things.  But that DOESN'T CHANGE our passion for what we do.  We absolutely LOVE creating things that can make people's lives easier & better.  We love making Holsters so that Massage Therapists can do what they love easier, better, & with personality!  We love making Therapy Packs to help with aches, pains, fevers, broken air conditioners, boo-boos, acute muscular spasms, surgical recoveries, & comfort!  WE LOVE THIS WORK!  And we will continue to do it as long as there are people out there who need our products.  And IF the day were to ever come where no one else ever needed what we make..... mom would start sewing something else haha.
Thank you for your support, thank you for your interest, & thank you for being the fabulously amazing person that God made you to be!  Make sure to follow us on Facebook so you can see updates, available products, & online events with ease.  And drop us a line any time!  We love to help people succeed & create.
Upcoming Online Event Information:
I will be posting information for an Online Event soon.  At this event we will have a giveaway, we will have comments open for questions & brainstorming, & I will be going through 1 of my massage sessions with you, this way I can share ways to integrate our products into YOUR sessions, upgrade ideas, & suggestions for taking it from your treatment room to your retail.  I will also be discussing Therapy Pack care & cleaning, especially in our current state of the world.  Keep an eye open for a date! 
Hey everyone!
Bethany here.  Sorry for the lack of updates in a while.  Life has been, well, life lol.  It's crazy & messy & busy & wonderful.  I just wanted to let you know that our Maternity Belt is now LIVE.  If you want one (or need one), just order from our Online Shop or contact us directly! 
Nothing breathes life into new ideas like necessity haha
Ah life.  Gets the better of us all sometimes.  We get busy, we get caught up, we lose track, then we find our way back.  And here we are haha.  We've been pretty busy over here, working on projects (both for Perfect Pockets PLUS & personal projects), working, living... the works.  
But we wanted to stop in here & give some updates.  We're working on some projects that we think are pretty awesome.... for one we're still working on the insulated Holster Pockets for Synergy Stones.  We can't wait to get these finalized!  These stones are so amazing, they need equally amazing Holsters.  Once these are completed, they will be able to distribute the weight of the Synergy Stones so they are comfortable to wear, they will help insulate to maintain their working temperature, & they will be able to be added onto current belts (even belts that we haven't made ;-) ).
Another item we are working on (this next week especially) is a Maternity Belt.  When that baby belly starts to pooch, there are few things more irritating & uncomfortable than a belt cutting right along it.  So we are working on a supportive belt with some stretch to accomodate that glowing baby belly.  The best part about this belt is that it will work with exisiting Holsters, not just custom pieces.  But of course, we would love to help you design that perfect Holster just for you ;-)
And we almost have our Shoulder Girdle Pack finalized & we are still working on our Migraine Cap to make sure it is absolutely perfect... once these 2 packs are done, they will be invaluable retail items.  Seriously, who doesn't have a client with shoulder pain (or worse, shoulder surgery due to pain) or who suffers from migraine headaches?  
So yeah, this has been what we're up to :-D  We love this work & we can't wait to share all the new stuff as we get it finished.  
And just a reminder, our Seasonal Pack; the Mother's Day Pampering Foot Wrap is now available for purchase.  Order early so you can make sure that you get the PERFECT gift in time for Mother's Day.  Nothing says "I love you" & "Thank you for everything you do" like a comforting piece for Self-Care <3
Thank you everyone for your continued support, it means the world to us!
Hi everyone!
We have felt a pull recently & were inspired through another group...  sometimes life comes up & just kind of bites us in the butt.  Things gets dicey, finances get tight, and we overwork to make up for it... sometimes, life just gets hard with medical surprises, loss, & changes that just seem unfair.  We all know someone who has run into this kind of situation, & they have shown the true colors of their character... the amazing vibrancy of their spirit & indurance.  They are amazing!  We are amazing creations!
This has pulled on us. 
We are offering a giveaway called:
~Santa Mitts~
Now until midnight on Sunday, December 17th we will be accepting nominations for someone who needs some self-care, but due to life is unable to get it themselves right now. 
So we will giveaway a set of Self-Care Sleeves on Monday, December 18th
How to Nominate:
Send us an e-mail with your nominations NAME, MAILING ADDRESS, & STORY
We will message/e-mail the nominator after we draw the winner.
The actual winner will not be contacted, they will just receive a package with a set of Self-Care Sleeves & a card/
If we have a LOT of response from this we will work on a project to allow us to do a giveaway on a more regular basis.  We'll have a way for people to donate & once we reach the $$ amount we will draw another name.
Thank you so much!!!
Hey everyone!
We have a couple new products that are now LIVE in the Online Shop. 
Introducing the Upgraded Back Pack Bottom Piece & The Office Pal!!!!
The Upgraded Back Pack Bottom Piece has extra width & length to comfortably cover the glutes/hips with better comprehension.  Perfect for the big & tall client
  The rice-channels have an awesome starburts pattern to hit the structures of the hips & sides just beautifully.
The Office Pal is the perfect gift for someone who sits at a computer for any period of time LOL.  It is also the perfect addition to your professional office as a tool for your treatment sessions & retail areas.
We are so excited to finally have these done!!  Can't wait to finish some more projects
  Got some fun ones, in The Pipeline
    It is a beautiful evening here in Arkansas!  As I sit here looking at my adorable.....psychotic..... children I think of how blessed we have been.  We have met such amazing people through Perfect Pockets PLUS, had some memorable experiences, & have been challenged so perfectly.  One of the AMAZING experiences we had was the World Massage Festival, where we had the pleasure to meet Gael Wood.... OMG.... if you haven't met her, you NEED TO!  She is amazing!  She has been a massage therapist for years, helps massage therapists & skincare technicians to maximize their time through use of her Content Club, & encourages success through her classes & free toolkit.
All this week we will be sharing the FANTABULISTICNESS of https://gaelwood.com/" target="_blank">Gael Wood and her Massage & Spa Success business on Facebook!
      ALSO..... to celebrate the Master Pocketeer getting back into the groove, we will be having a Online Shop-Wide Sale!!!!  
15% off EVERYTHING 
Monday, September 4th (Happy Labor DAY!) through Monday, September 11th
We're BACK!!!!!!!
Thank you so much everyone for your support during this, interesting, time.  The Master Pocketeer is doing a TON better, though she is still healing & still on restrictions.  She's excited because she got her wheels back this week lol.  
She is comfortable doing Custom Holster orders now, though we have to wait a bit longer before we start doing Custom Therapy Pack orders again.  Everything in the Online Shop is still available to purchase whenever it fits you.  We are so happy to be able to start creating again 
      Hi everyone, Bethany here.  I want to personally apologize to everyone who may be interested in setting up a custom order.  Unfortunately, due to a medical situation, it will be a little bit before we are able to accept new custom orders.  
        What does "medical situation" mean..... well, it means that things got a little crazy lol.  My mom, the Master Pocketeer went in for a scheduled stress test & it ended up with her having open heart surgery... so yeah, it is a situation to say the least.  Everything went amazing though & it was better to happen now with no heart damage than it would have been any time from now when who knows how much damage could have happened.   
We truly appreciate your understanding & we are so grateful for all the out-pouring of love & support that we have received.  Y'all truly are the best part of the job & we could not be more blessed.  Thank you <3<3<3
And no worries, we will be back to doing what we do shortly.  My mom just needs to rest & heal for now.  Trust me, I will make a big tadoo when she's ready for custom orders again lol.  Until then, we are still accepting orders from our Online Shop.  That is something I can walk my dad through as far as packaging ;).  Thank you again, God bless you as you have blessed us, & have a great night!!!!
The World Massage Festival is AWESOME!!!
Our cabin is unbelievable!  Thank you Cherokee Cabin Rentals for such a great place to rest, work, & enjoy while we attend this conference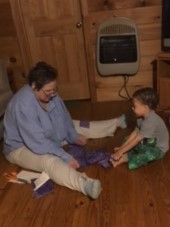 .  They have been so accomodating, the place is gorgeous, we have a grill, stove, microwave, full bathroom, full deck, the deck has a gate for the kids, a TV, 2 queen beds, they noticed we brought DVDs so they brought us a DVD player (we didn't even ask!), when the kids were napping they left fresh towels & toilet paper in a sealed bag on the deck, & the view :-O......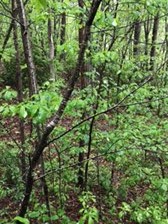 We've met https://gaelwood.com/" target="_blank">Gael Wood of Massage & Spa Success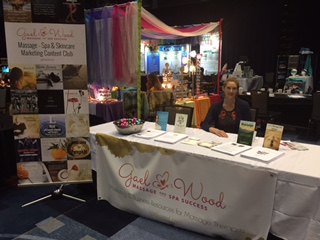 , Beth of Beth Teaches Bodywork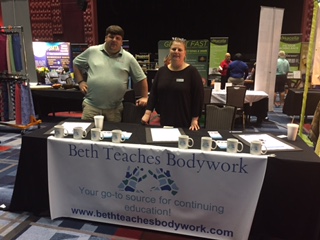 ,
Scott Lindquist of Rebooking Mastery,
Rebecca Brumfield of Badass Bodyworkers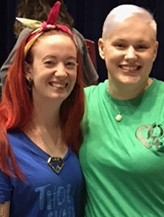 ,
and made some INCREDIBLE contacts through https://www.amtanc.org/" target="_blank">AMTA-NC, https://www.upledger.com/" target="_blank">Upledger, & https://www.fsmta.org/" target="_blank">FSMTA... we've done videos with Gael, FSMTA, Beth..... we've done some classes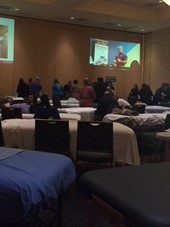 , have more classes to come, bought some amazing products from Soothing Touch, Cryoderm, Founder's Hemp... mom has gotten work done by Pillossage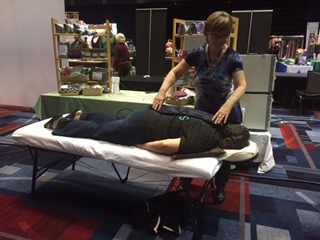 & the INCREDIBLE & INSPIRING https://orthomassage-net.myshopify.com/" target="_blank">James Waslaski...  
It has been so wonderful <3  
The kids got to see some horses today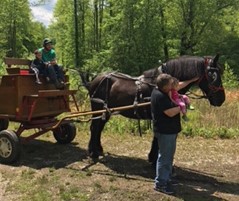 & play in the river yesterday.  I've had dinner with the awesome Badass Bodyworkers & watched Rebooking Mastery make a spotlight appearence at the Hall of Fame Induction Ceremony.  Y'all, this has been such a wonderful experience.  We will be happy to get home & decompress, get back to normal life, & start filling custom orders again... but this, this experience has been.. priceless :-)
Bethany here, as many may have noticed, our Facebook page has been quiet for a couple weeks now & the website has seemed strangly unchanging for the same time.... well, yeah.  That'd be my bad.  Kind of dropped the ball (or box) while moving from an apartment to a house with 2 little ones.  But so you know, boxes all unpacked or not (definitely NOT), we're back to updating & chatting like usual... sewing never stopped at least (go Momma GO!)
Event! Event! Event!
May 7th-10th
We'll be set up in the Vendor hall with a TON of products available to try & buy.  If you want to order something custom but want to pick it up at the Festival we can do that, and you won't have to pay shipping then 
  The vendor hall is FREE to everyone, you don't have to be attending the Festival to stop in.  BUT, if you want to get some great CEUs this is the place to do it.  We have purchased the Vendor Freedom Package, what this means is that we will be attending the World Massage Festival EVERY YEAR 
  This will be the ONLY event that we plan on attending consistently.  We want to make this a big thing every year.  Our special event.  This year we are giving away one of our 2-Piece Back Packs through the festival, a Custom Holster Order at our booth (potentially more giveaways, we'll see ;)), & we're going to have little bonuses for larger orders.  Not to mention that you don't have to pay shipping if you buy at the Festival (or pre-order & pick up at the Festival).
We are so incredibly excited for this event, we honestly cannot express.  We hope to see you there, we would love to give out some awesome hugs to our AMAZING customers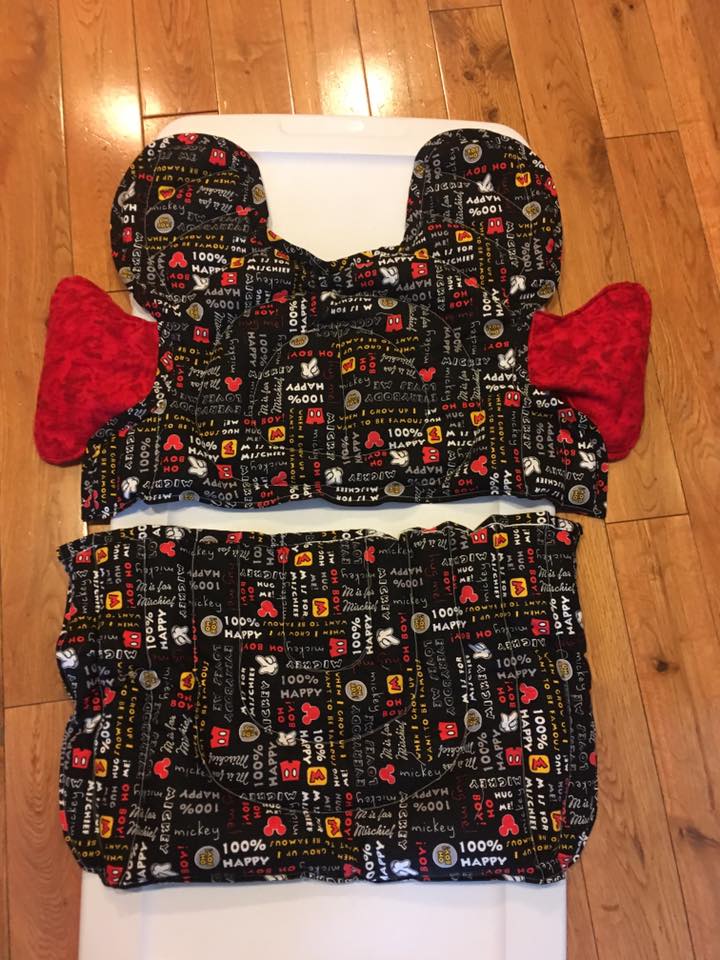 /